Before and After: A Hallway Makeover with Society Social Peel and Stick Grasscloth Wallpaper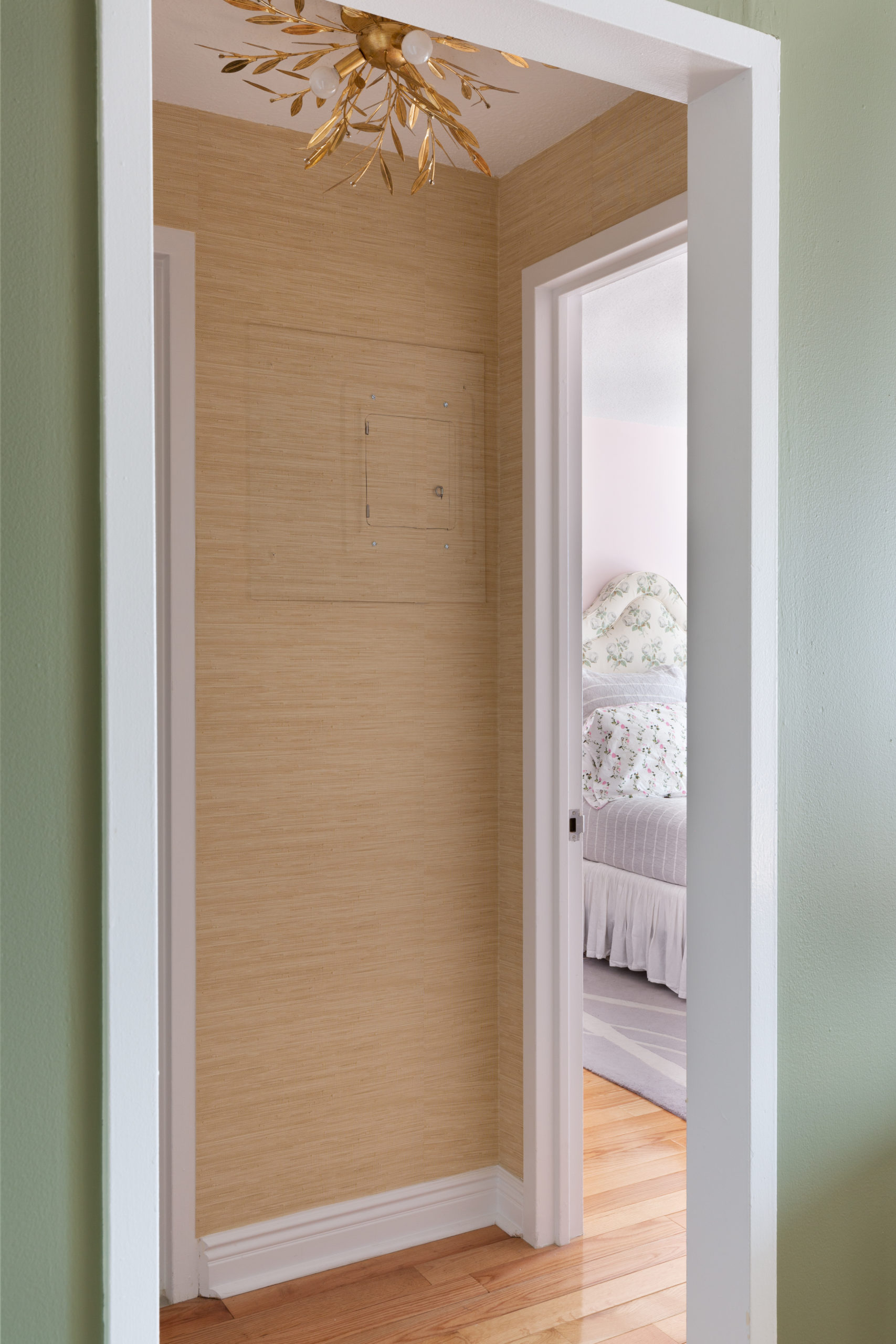 One of the most transformative things I've done in the new apartment is hang the new Society Social x Wallpops peel and stick faux grasscloth wallpaper in my hallway. I was definitely excited when Society Social announced the new line and gifted me rolls for my space, but I truly had NO idea how good it would wind up looking. Of course I've always thought grasscloth wallpaper was great – it adds wonderful texture and that natural element that every room needs – but I love it SO much more than I even thought I would! I'd used peel and stick wallpaper in my previous apartment so I knew how great it was for renters, but I'd actually never heard of peel and stick grasscloth before. Typically grasscloth wallpaper is known for being very expensive – so this peel and stick faux option is just such a great and budget-friendlier option! And I seriously can't tell it's faux – the texture is beautiful. I didn't even realize it was faux for a while, lol. This wallpaper totally transformed the space, here it is before I moved in: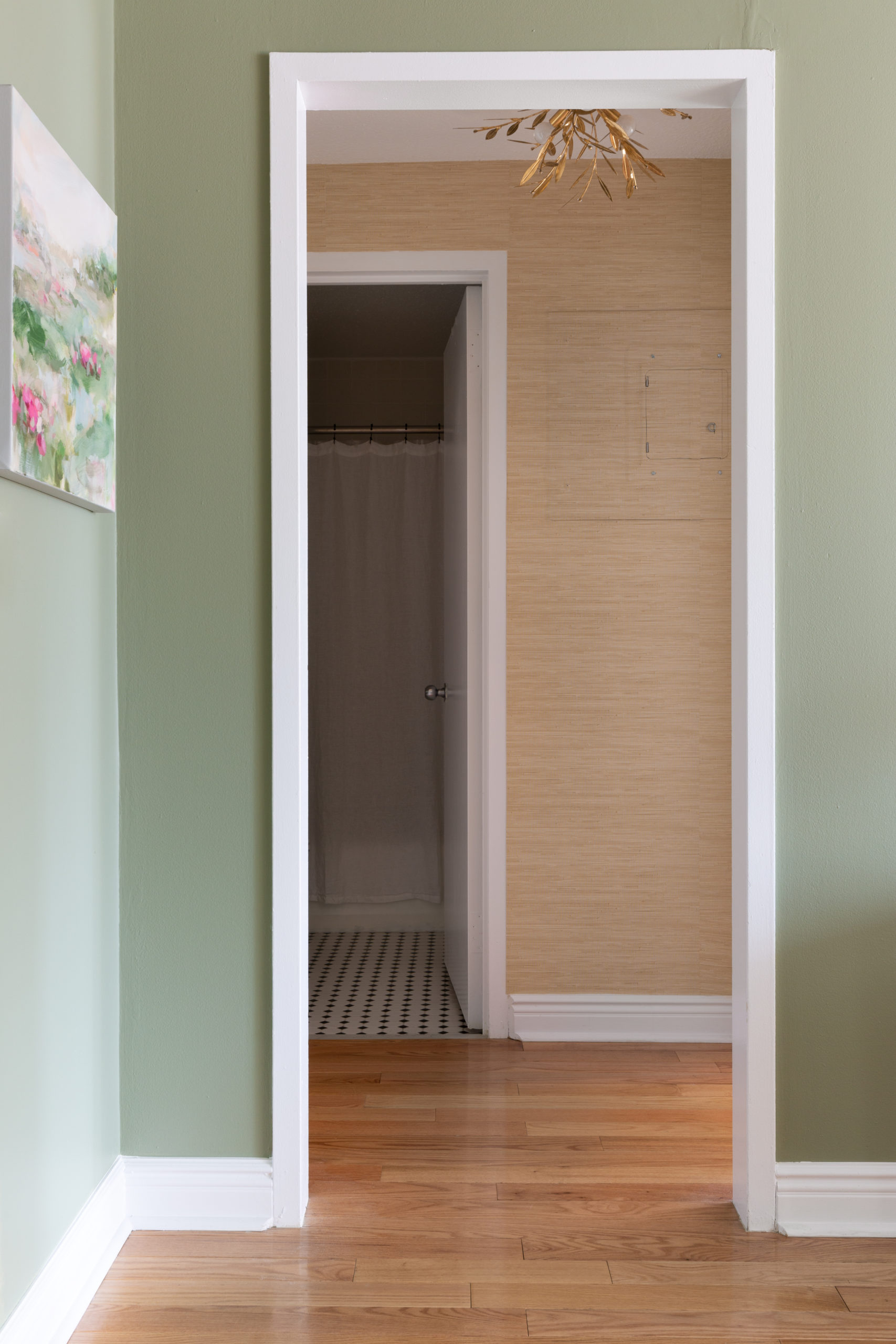 As far as putting the wallpaper up, I'm an adamant non-DIYer, so I had someone help me, and he had a very easy time with it. I'd previously had the same person actually hang real wallpaper in my bathroom, and this peel and stick took a fraction of the time and caused very little mess (compared to the real wallpaper, which was a huge mess and took forever). So it was very no muss no fuss and he even commented on how well it worked and how nice the grasscloth was! You can see above that he also used it to cover my gigantic fuse box, which really helped make the space look a lot better! Society Social has a calculator on their website that will tell you how many rolls to buy – this project required about three.
On the right you can see the texture and color up close. I really think it's perfect – just couldn't be more pleased with it. I looked at a few of their colorful options and really liked them all, but I had no hesitation when it came to choosing the wheat color – I just love that natural look and felt it would be perfect for the hallway. You can see that I also covered the light switch – that I actually did myself! It was super simple – the wallpaper went on easily and stuck with no problem. The only problem is I need to redo it because I stuck the wallpaper on with the lines going vertically instead of horizontally – whoops! Luckily it was so easy it won't be a problem to redo it.
To make this tiny, pass-through space feel more special, I switched out the super ugly flush mount for a lovely and whimsical one from Anthropologie. It has little leaves all over and a pretty, organic shape to it, and I like that it adds an additional natural element to the space. I have a lot of florals in the bedroom so I feel like this light fixture gives a little preview of that!
I also hung an unabashedly feminine Inslee botanical print that I had frame with a pink and white double mat – I just love it! Between the grasscloth wallpaper, the light fixture, and the framed print, I feel like I've been able to take a nothing kind of space and create this lovely little moment. It's just a good example I think of how any space in your home, no matter how seemingly trivial and small or unimportant, can be an opportunity to create something special.
Overall, my only regret with the Society Social grasscloth wallpaper is that I couldn't use more of it in a bigger space in my home! I'm very happy with the paint colors I chose but I love this stuff so much I would have happily done a whole room with it. I can't recommend it enough!